Our tension fabric displays create a seamless, elegant exhibit that enhances your message!
Tension fabric displays are an ideal eye-catcher for your trade show, conference, special event, or use it again at your office as a promotional tool for walk-in customers.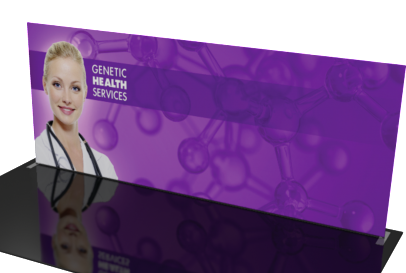 Frame is made from smooth, aluminum tubing

Custom fabric graphic is like a pillowcase with a zipper at the bottom

Single or double sided dye-sublimated fabric print

Tabletop or full height, 6-20' wide, straight or curved

Comes with a carry bag, hard case with wheels is optional
Take a look at our Portable Displays Portfolio here.
---
Tabletop Straight

75.5"W x 63.5"H x 13.75"D

Tabletop Horizontal Curved

Tabletop Vertical Curve

61.96"W x 43.97"H x 15.92"D

8' Straight Backwall

8' Horizontal Curved Backwall

90.34"W x 92.05"H x 18.59"D

8' Vertical Curved Backwall

90.5"W x 92.11"H x 23.96"D

10' Straight Backwall

116.69"W x 92"H x 17.71"D

10' Horizonal Curve Backwall

112.06"W x 92.05"H x 23"D

10' Vertical Curve Backwall

114.07"W x 92.08"H x 23.96"D

20' Straight Backwall

235"W x 92.49"H x 17.72"D

20' Horizontal Curve Backwall

226.02"W x 92.05"H x 32.6"D

20' Vertical Curve Backwall

231.99"W x 92.11"H x 23.87"D

20' Serpentine Backwall

226.02"W x 92.05"H x 32.6"D

Hard Case with Wheels

The optional blow-molded display case features built-in wheels and easy-to-grip molded handles for portability and easy transport.

Display Lighting

Incorporate optional, bright LED light into your display and draw attention to your brand and message with elegance.
Watch the video below to see how to set up a 10' curved fabric backwall: