FABRIC TUBE DISPLAYS
Our fabric tube displays create a seamless, elegant exhibit that enhances your message!
---
Fabric tube displays are an ideal eye-catcher for your trade show, conference, or special event. Plus, you can continue using it at your office as decor or a promotional tool for walk-in customers.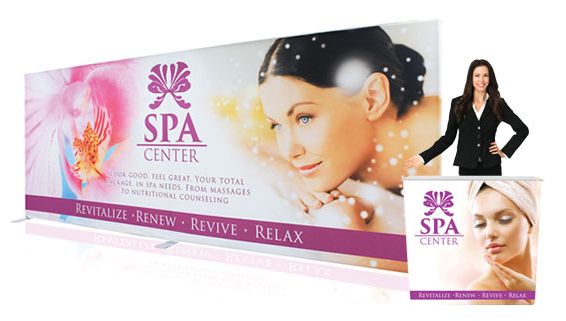 Available in single- or double-sided dye-sublimated printed fabric

Quickly assembled in about 5 minutes

Comes with a carry bag. Hard case with wheels is optional

Display Lighting optional. Bright LED light draws attention to your brand and message with elegance
Take a look at our Exhibits & Displays Portfolio here.
STRAIGHT



8-foot dimensions:
94.875"W x 91.5"H x 19.75"D

10-foot dimensions:
112"W x 89.75"H x 19.75"D

20-foot dimensions:
240"W x 90"H x 22"D

HORIZONTAL CURVE



8-foot dimensions:
96"W x 89"H x 15"D

10-foot dimensions:
120"W x 89"H x 22"D

20-foot dimensions:
240"W x 89"H x 26"D

VERTICAL CURVE



8-foot dimensions:
90.5"W x 92.11"H x 23.96"D

10-foot dimensions:
114.07"W x 92.08"H x 23.96"D

20-foot dimensions:
231.99"W x 92.11"H x 23.87"D

SERPENTINE



10-foot dimensions:
120"W x 89"H x 12"D

20-foot dimensions:
226.02"W x 92.05"H x 32.6"D

TABLETOP CURVE



6-foot dimensions:
72"W x 60"H x 10"D

8-foot dimensions:
96"W x 60"H x 10"D
Watch the video below to see how to set up a horizontal curved backdrop:
---