SUSTAINABILITY
ProGraphix is committed to preserving our natural resources and reducing waste through sustainable practices.
---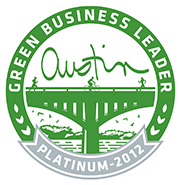 "The future is literally in our hands to mold as we like. But we cannot wait until tomorrow. Tomorrow is now."
—Eleanor Roosevelt
We are located in Austin, TX—a city with so much natural beauty and a steadfast commitment to its preservation. At ProGraphix, we too are committed to preserving our natural resources and reducing waste through sustainable practices. We continuously research the latest in eco-friendly solutions to further improve our operations and minimize the environmental impact of large-format printing.
Our sustainability commitment is focused on four key themes:
SUSTAINABLE MATERIALS:
We stock several materials, both rigid and flexible, that are recyclable, biodegradable, compostable, contain recycled content, or are FSC certified.
Information on our sustainable materials is communicated by samples distributed, our website, and on quotes and invoices
We constantly research new materials to increase our sustainable offerings by reviewing trade periodicals, talking to vendors, and attending trade shows.
Hot off the press: Phasing Out Foamcore
Our blog post about why this popular product is hurting the environment and how ProGraphix is making moves to reduce waste with our new products, EcoBoard & EcoBoard MAX
ECO-CONSCIOUS EQUIPMENT:
Our water-based latex inks are odorless and are GREENGUARD GOLD certified.
All inks we use release very little or no VOCs or HAPS and are nickel free.
Rigid materials are printed directly by our flatbed printer, eliminating the need to print on adhesive backed material, which creates waste from the release liner.
Any new equipment purchased is energy-star compliant.
WASTE MANAGEMENT & RECYCLING:
Materials are kept in several sizes to reduce wasted material.
We date all rolls of media when receive and use the oldest first. New rigid materials are stored under older sheets.
Samples are printed from wasted material on live projects when possible.
Most packaging material is saved for reuse.
Used latex ink cartridges are recycled.
We accumulate our waste ink in containers, which are properly disposed of by an authorized vendor who generates a Waste Material Profile.
All production and office waste is separated into recyclable and nonrecyclable containers. Our waste vendor recycles paper and Type 1-7 plastics.
To avoid waste, electronic proofs are encouraged whenever possible.
Our bubble wrap is biodegradable, and we devise special package for large shipping needs, such as using cardboard inserts to reduce packaging material required.
ENERGY CONSERVATION:
Thermostats are on timers to reduce energy usage.
All light bulbs are either LED or florescent to reduce energy usage.
Any new landscaping added is native and requires little water.