INDOOR SIGNAGE
Indoor signs are a great way to capture an audience and raise awareness.
---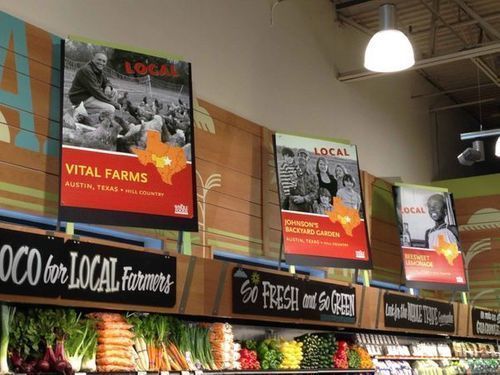 ProGraphix can produce full-color signs of practically any size on a variety of materials, rigid or flexible. With the capability to print a single sign/poster or full-scale event signage, our full-color prints will make your creation pop. Talk to us about options for making unique, powerful signs that will make your campaign a gleaming success.
Take a look at our Poster Portfolio here.
USES:
Point of purchase displays

Conference posters

Directional posters

Promotional posters

Trade show displays

Sponsorship signs

Custom cutouts

Backlit signage

Event signage

Promos

Wayfinding signs

Social distancing signs

Mask guidelines
MATERIALS:
EcoBoard (recyclable, biodegradable)

Our eco-friendly alternative to foamcore, made from 100% FSC certified paper. EcoBoard is lightweight, economical and versatile with a smooth, matte bright white surface. It is great for short-term presentation displays and point-of-purchase graphics.
Thickness: 3mm

EcoBoard MAX (recyclable, biodegradable)

A paper-based graphic display board that is made primarily from renewable forest resources and is completely recyclable. EcoBoard MAX, also known as falconboard, has a unique structure that can handle the most demanding of graphic display applications, due to its superior rigidity and dimensional stability.
* Thickness: 3/16", 1/2"

GATORBOARD

A heavy-duty foam board. It is an all-plastic panel that features a high-impact dent-resistant polystyrene surface. The panel is lightweight and warp-resistant.
Thickness: 3/16", 1/2" & 1"

STYRENE

A lightweight, flexible plastic sheet. Great for hanging signs and frame signs.
Thickness: .020, .030 & .060; Environment: Indoors & short-term outdoors

PVC (Sintra, Komatex)

Polyvinyl Chloride is a lightweight foam board with a semi gloss finish. It is lightweight yet rigid and durable. It is waterproof, chemical resistant, and has superior dent and scratch resistance.
Thickness: 3mm & 6mm

PAPER (recyclable)

Options include satin, matte and block-out paper. This is a great option for posters.

Foamcore

See EcoBoard—our eco-friendly foamcore replacement
* In addition to the materials listed above, you can also use any of the materials listed in Outdoor Signage for your indoor project.
FINISHING OPTIONS:
Matte, gloss or dry erase lamination

Grommets

Magnetic strips

Velcro

Poster hang hardware

Suction cups
---