ACRYLIC PRINTS
Acrylic is the perfect choice for a clean, sophisticated addition to any room or event.
---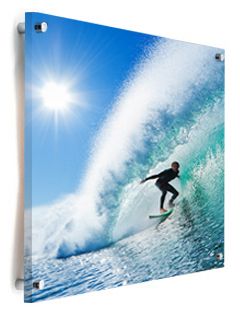 Acrylic prints are made of an extremely versatile plastic sheet with a glossy finish, which is also known as Plexiglas®. These are great for office lobbies, trade shows & retail stores.
ProGraphix flame polishes the edges to give the piece a finished look. The standard thickness is 1/4", mounted with sleek standoffs to project off the wall and make it more noticeable.
Take a look at our Acrylic Prints Portfolio here.
USES:
Office branding
Acrylic signage
Event graphics
Directional signage
Fine art prints
Photography display
Decorative room divider
Product displays
Lobby artwork
Acrylic photo prints
MATERIALS:
REVERSE PRINT



The image is printed on the back and viewed through the acrylic for an ultra high gloss print. A white layer is added after printing to make the image pop.

TRANSLUCENT



The image is printed on a translucent vinyl and applied to clear acrylic. Great solution if the acrylic will be viewed from both sides.

TRANSPARENT



The image is printed directly on clear acrylic without a white layer added.
---