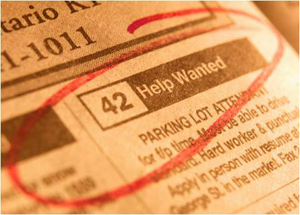 We look for many qualities in the individuals we hire -- the ability to communicate effectively, a high level of organization, strong interpersonal skills, and so on. Regardless of an applicant's qualifications, we always look for one attribute in particular -- the desire to provide high quality products with excellent customer service. We can train people how to work with clients or run pieces of equipment, but to have passion for customer service and pride for your work takes a unique individual. If these are qualities you possess, we're sure you'll find a rewarding career with us. We supply our team with the latest technology and offer them the best training available.
Current Openings
Production & Installation Technician

We have an outstanding opportunity for someone with proven graphics experience and a great attitude. Must have 2+ years experience operating wide format equipment and installing vinyl. This is a full-time position with excellent benefits.

KEY FUNCTIONS:
• Download customer files, compare to sales order, and determine size arrangement or artwork changes to assure proper imaging
• Create layout proofs for customer approval
• Prepare files for digital output
• Verify substrate and quantity to be printed
• Operation of wide format printers, maintaining optimum production rate, color accuracy, and high quality
• Solve imaging problems and makes adjustments to mechanical operation of device
• Operation of laminator and cutting plotter
• Trim printed jobs to correct size
• Maintain printing equipment and cleanliness of work area
• Installation of vinyl wall murals, window graphics, lettering, and decals

REQUIREMENTS:
• Extensive knowledge of Adobe CC for MAC computers, including Photoshop, Illustrator, InDesign, and Acrobat
• Minimum two years wide format digital printing and installation experience
• Ability to manage multiple projects and thrive in a deadline-driven environment
• Good judgment of color, design, and print quality
• Excellent communication skills with clients and co-workers
• Ability to apply concepts such as fractions, percentages, ratios, and proportions to printing and installation jobs
• Familiar with installation of many different materials while applying proper installation techniques to each medium
• Personal vehicle for traveling to installation locations with valid driver's license
• Ability to move freely throughout the building to load substrates and operate production equipment
• Positive, fun attitude

If you are interested in applying for this position, please email info@pgaustin.com with your resume and cover letter.