OUR WINNING TEAM
ProGraphix wins PIA MidAmerica's GraphEx award for Most Outstanding Team of the Year for 2021!
---
July 8, 2021
Written by Shelbi Macfarlane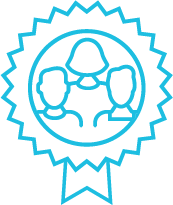 We like to think we have a winning team here at ProGraphix . . . and last month, this opinion was proven to be fact when we were declared the winners of PIA MidAmerica's Most Outstanding Team of the Year for 2021!
PIA stands for Printing & Imaging Association, which services hundreds of print, visual communication and marketing firms. The MidAmerica chapter is comprised of Texas, Kansas, Oklahoma, and Western Missouri.
We were so honored and ecstatic to receive this recognition after a challenging-but-informative 2020, which the team spent apart, with half working from home and the other half rotating shifts. This time apart gave us the opportunity to fine-tune our communication, which made returning to the office even more rewarding.
Here is the full nomination:
" Throughout the hardships of the past year, this team has persevered more than any team I've worked with, embracing their
differences in a way that leads to collaboration and innovation. As events were cancelled amidst the pandemic and offices
shut down, large-format printing orders were less frequent. This team took the opportunity to band together (even while
working remotely), craft innovative solutions to unique problems, and improve the level of service and offerings provided.
All the while, they were able to sustain a focus on eco-consciousness and being as kind to the environment as possible. "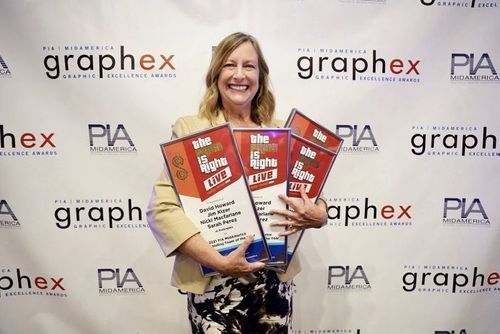 Our President and CEO, Nicki Macfarlane, attended the GraphEx Gala in Dallas to accept the award on behalf of the entire team.