The Pop Up Display is a trade show classic!
---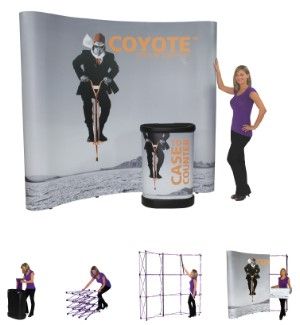 Magnets on individual channel bars make popups fast and easy to set up and break down, especially when compared to complicated "snap in" channel bars and fragile locking style systems.  All popup displays are offered in curved and straight systems, single or double sided.  Option of displaying graphic mural panels or versatile Velcro reception fabric panels.
Accessories include:
Monitor Mount
LED Lights
OCP Case
OCP Case to Counter Wrap
OCP Elite Case
OCP Elite Case to Counter Roll Wrap
OCP Elite Case to Counter Stretch Wrap
Take a look at our Portable Displays Portfolio here.
See below for a set up video.