Custom wall graphics and murals are great additions to any room!
---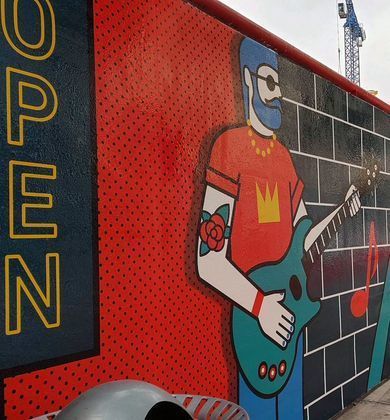 Personalize your space with custom wall murals. Our murals are a perfect solution for restaurants, corporate offices, museums, retail store promotions, athletic team murals, backdrops, fitness centers, hotel lobbies, and more! ProGraphix offers several options to produce high-quality murals and contour cut decals.
Take a look at our Wall Murals Portfolio here.
USES:
Fine art prints
Interior decor
Statement walls
Photography display
Office wall graphics
Exhibit wall graphics
Menu and information signage
Ceiling prints
Event and sports graphics
MATERIALS:
VINYL WALL FILM



A tough, flexible & scuff-resistant. Its removable adhesive allows for repositioning during installation. We have a short term or long term options. For long term applications, vinyl wall film can be laminated for protection against abrasion and UV.

ADHESIVE BACKED FABRIC



A removable fabric that can be mounted to most surfaces and repositioned while retaining its adhesion, without leaving a residue. Its unique opaque properties prevent translucency problems associated with comparable products.

TEXTURED SURFACE VINYL



Our textured surface vinyl turns indoor and outdoor textured surfaces into prime real estate. It is designed to conform to moderately texured surfaces such as concrete, brick, industrial stucco, and tile and is removeable with heat. Outdoor durability is 6 months.

CONTOUR CUT VINYL



Contour cut vinyl comes in a wide variety of colors and last for years indoors and outdoors. It can be applied to windows or to interior walls.

PVC-FREE WALLPAPER



Our PVC-free wallpaper has an ultra-smooth finish with vivid color and high-definition detail. It is mold and mildew resistant and has an indoor display permanence of up to 20 years. It is flame resistant and is an FSC certified paper with 10% recycled content. When printed with our latex inks, it is GREENGUARD Children and Schools Certified and is virtually odorless.